About Boating Safely
Learn from Boating from Real people and Real Hands on training - not from a computer disk
Programs are being held at the Bass Pro Shops
5156 International Drive
Orlando, FL 32819
Hours are 9am - 5pm
Contacts:
peclass.1711@gmail.com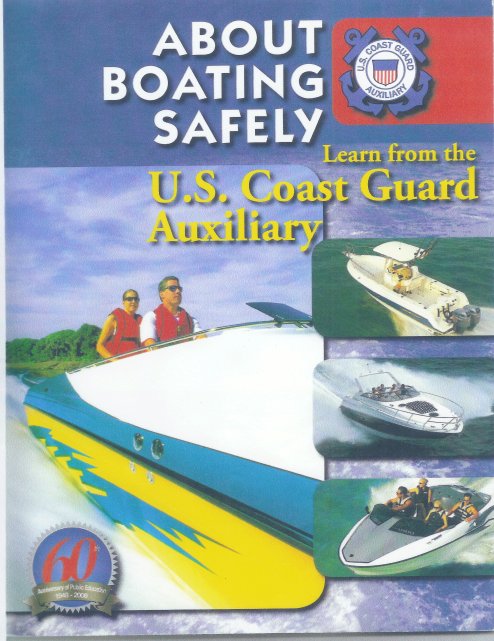 ABS is a eight-hour, eight-chapter program designed to appeal to hunters, anglers, personal watercraft operators and other boaters who cannot find time for a full, comprehensive course. ABS was developed by the U. S. Coast Guard Auxiliary in cooperation with the U. S. Power Squadrons and Mosby Lifeline, and is approved by the National Association of State Boating Law Administrators (NASBLA). It is also approved by most of the states which require formal instruction in order to operate a boat.
Topics include:
INTRODUCTION TO BOATING -- types of boats; different uses of boats; outboard, stern-drive, and inboard engines; jet drives.
BOATING LAWS -- boat registration; hull identification number; required safety equipment; operating safely and reporting accidents; protecting the marine environment; boating laws and PWCs.
PERSONAL SAFETY EQUIPMENT -- personal flotation devices ("life jackets"); fire extinguishers; sound-producing devices; visual-distress signals; first aid kit; anchor; safety equipment and PWC.
SAFE BOAT HANDLING -- bow riding; substance abuse; entering, loading, and trimming a boat; fueling portable and permanent tanks; steering with a tiller and a wheel; docking and mooring; knots; filing a float plan; checking equipment, fuel, weather, and tide; using charts; choosing and using an anchor; safe PWC handling.
NAVIGATION -- the U.S. Aids to Navigation system; types of buoys and beacons; navigation rules; avoiding collisions; sound signals; PWX "tunnel vision."
BOATING PROBLEMS -- hypothermia; boating accidents and rescues; capsizing; running aground; emergency radio calls; engine problems; boating problems and PWC.
TRAILERING, STORING, AND PROTECTING YOUR BOAT -- types of trailers; trailer brakes, lights, hitches, tires, and bearings; loading, balancing, and towing a trailer; towing (and backing) a trailer; boat launching and retrieving; boat storage and theft protection; launching, retrieving, and storing a PWC.
HUNTING AND FISHING, WATERSKIING, AND RIVER BOATING -- carrying hunting gear and weapons in a boat; fishing from a boat; waterskiing safety guidelines and hand signals; waterskiing with a PWC; navigating rivers.
Many insurance companies will offer discounts on boat insurance to individuals who successfully complete this program.
Individuals who successfully complete the program and exam are awarded certificates and Florida Boater ID cards
Program starts at 8:30am - Please plan to arrive early enough to process check-in.
Also see Knots and how to tie them
Return to home page